The Garden of Remembrance Memorial Park Grounds
The Garden of Remembrance is on 152 acres of tranquil meadows and woodland in the gently rolling hills of upper Montgomery County, along I-270 from the Capital Beltway. The site and landscape design by Hord Coplan Macht has won an American Society of Landscape Architects (ASLA) Maryland and Potomac Chapters Honor Award.
Beautifully designed in harmony with nature, the Garden of Remembrance is a peaceful setting in which to find solace, a haven in which the living will honor the memory of their loved ones for many generations to come. Paved walkways crisscross the spacious grounds making visits convenient and walking easy. The grounds and grass pathways are designed so that one may avoid stepping on or over any burial sites.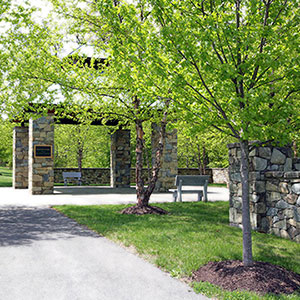 The Memorial Park offers visitors the Sadugor Gazebo for reflection and meditation. Located on a spacious stone plaza, the peaceful shelter stands near the Founders' Garden. Furnished with benches and plantings, the gazebo is used for funerals, and special activities including the cemetery's annual High Holy Days Memorial Service. In the spring of 2023, the Memorial Park will be dedicating the Rabbi Joseph P. Weinberg Memorial Garden adjacent to our new Memorial Center.
Various types and styles of burial grounds throughout the Memorial Park give families a choice of landscaping, privacy, and personal preference such as our Family Gardens with low, slanted memorials interspersed in low landscaped gardens, flat bronze marker sections, Legacy Gardens with 4, 6, 8, or 10 family sites, and Forest Glades for up to twenty family sites in a segregated section.
In 2005 the Garden of Remembrance witnessed the completion of the Court of Abraham Mausoleum Plaza. On the crest of the hill at the end of the boulevard, this open expanse provides comfortable benches and is a welcoming setting for families and other visitors to rest and reflect. A second Mausoleum Plaza, the Court of Sarah was completed in 2020.

The Garden of Remembrance recently dedicated the Marilyn & Raymond Greenberg Memorial Center and Tina & Albert H. Small, Jr. Memorial Chapel at the crossroads and center of the memorial park. This sacred space includes an expandable 150 person chapel with state of the art livestream capabilities, family gathering room, hall for a shiva minyan or meal of consolation, clergy office, and large public restrooms. The Memorial Chapel offers another setting for funeral services in addition to our graveside services. In keeping with the cemetery's heritage, the building features a historic stained-glass Star of David window from the original 1898 Washington Hebrew Congregation temple at 8th and I Streets, N.W.