"You make me lie down in green pastures,
You lead me beside still waters…"
The Garden of Remembrance Family Gardens
Within the Garden of Remembrance Memorial Park, our limited and distinct Family Gardens
provide a park-like setting for loved ones next to low flowering plantings and tall grasses
sprinkled throughout the section. Low slant memorial markers are used in this section so
as not to distract from the beautiful gardens or interfere with the expansive view of the rolling
hills of the memorial park.
Available in family groupings of up to eight loved ones between flowerbeds, spaces in the
Family Gardens are $3,400 per plot. An additional $290 contribution per site is required for
our permanent Endowed Care Trust Fund to maintain the Family Gardens section and the
memorial park.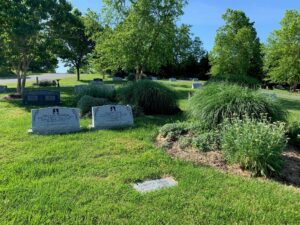 For information about the Garden of Remembrance Family Gardens or other ways to
memorialize loved ones within our sacred Gan Zikaron, please contact a member of
our staff at 301-428-3000 or [email protected].
To print and download a flyer, click here.