Garden of Remembrance Memorial Park Opens New Memorial Center & Chapel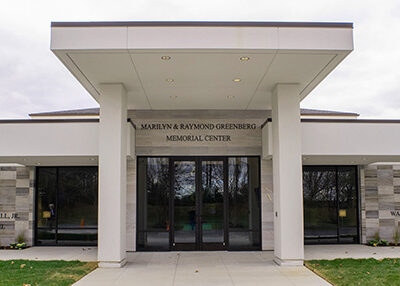 The Garden of Remembrance (Gan Zikaron) Memorial Park is proud to announce the opening of the Marilyn & Raymond Greenberg Memorial Center and the Tina & Albert Small, Jr. Memorial Chapel on the grounds of the nonprofit cemetery.
The fully accessible Center and Chapel can accommodate up to 200 funeral service attendees. It includes a private family wing,
a state-of-the-art audio-visual system with audio assist hearing devices, a clergy office, lovely restrooms, and an adjacent memorial garden. The Center includes the Dreyfuss Family Memorial Hall (with adjoining kitchenette) for a shiva minyan, a meal of consolation, or a community class or meeting. The Chapel is equipped with livestream video capabilities that can be used to broadcast funeral services to those unable to attend and to provide a permanent keepsake for the family.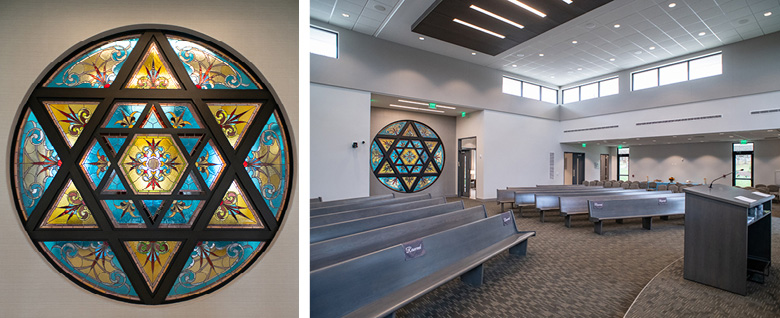 The Lobby and Chapel feature the beautiful 125-year-old historic stained-glass Star of David that was originally installed in the former Washington Hebrew Congregation synagogue on 8th & I Streets in the District of Columbia.
For information about using the Memorial Center & Chapel, please contact the Garden of Remembrance Office at 301-428-3000 or [email protected]g.
---
Click here to view scenes from the Memorial Center & Chapel Dedication on November 13, 2022.
To view construction photos, click here.
Our thanks to our Donors, Construction Committee, Board of Directors, and Families for their support.