Garden of Remembrance Memorial Park Contributes to County Forest Preservation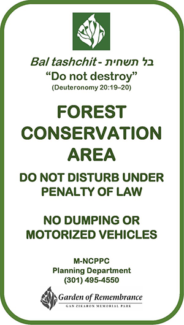 The Garden of Remembrance (Gan Zikaron) Memorial Park in Clarksburg, Maryland recently expanded its designated Forest Conservation Preserve. Working through the Montgomery County Planning Board of the Maryland-National Capital Park and Planning Commission, the expanded timberlands adds several acres of forests and trails to the 152-acre memorial park.
"The ethical Jewish concept of "bal tashchit" (do not destroy) has its origins in the Biblical Book of Deuteronomy," explains Hank Levine, President of the nonprofit memorial park that serves the Jewish community of Greater Washington. "Sustaining and protecting the environment is one of our core values."
The Garden of Remembrance was recently certified as a Hybrid Green Burial Cemetery by the National Green Burial Council and received a Montgomery County RainScapes grant to develop conservation landscaping and gardens.
"In addition to honoring loved ones and comforting the bereaved at their time of need, Gan Zikaron is committed to sustaining and enhancing the trees, shrubs, and wildlife habitat of our beautiful and tranquil memorial park with an emphasis on preserving native plantings," commented Judi Kranz, Vice-President of the volunteer Garden of Remembrance Board of Directors. "Our volunteer 'Green Committee' will soon be working on Level I Arboretum Accreditation by ArbNet, the Interactive Community of Arboreta, and the creation of new raingardens and a butterfly waystation."
The Garden of Remembrance Memorial Park is located at 14321 Comus Road in Clarksburg, Maryland 20871. The grounds are open to the public. For additional information, please call the memorial park office at 301-428-3000.
Garden of Remembrance Marks 20th Year of Service with Plans to Expand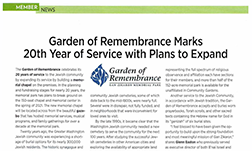 The Garden of Remembrance celebrates its 20 years of service to the Jewish community by expanding its service by breaking ground and building a memorial chapel on the premises in 2021. To read full article, click here.
Click on image to read full article: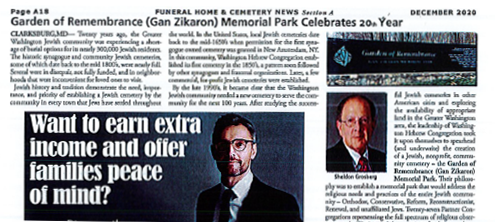 Garden of Remembrance Breaks Ground on New Memorial Center & Chapel
The Garden of Remembrance (Gan Zikaron) Memorial Park in Clarksburg, Maryland has broken ground on a new Memorial Center and Chapel, announced Hank Levine, President of the nonprofit memorial park. Founded in 1999, the Garden of Remembrance was formed to serve the Greater Washington, Maryland, and Northern Virginia Jewish community one family and one congregation at a time, explains Levine.
Several generous philanthropic families have provided lead gifts including the Marilyn & Raymond Greenberg Memorial Center, the Tina & Albert H. Small, Jr. Memorial Chapel, the Wasserman-Gill Family Wing, and the Dreyfuss Memorial Hall. Each of these magnanimous families is a lifelong Washingtonian and has contributed leadership and charitable support to numerous local and national organizations in the general and Jewish communities. Dozens of additional generous donors are supporting the construction project by dedicating lobbies, rooms, and components of the 6,000 square foot building.
The project will also include the Rabbi Joseph P. Weinberg Memorial Garden in memory of the late senior rabbi of Washington Hebrew Congregation who recognized the need and was instrumental in creating the memorial park. The memorial garden will be a beautiful space for reflection and contemplation of loved ones in honor of Rabbi Weinberg's communal vision and in memory of his good works.
For nearly twenty years, the Garden of Remembrance has been planning a Memorial Center and Chapel on the memorial park grounds for funeral services, a place to comfort bereaved families, a setting for educational programs on loss and life, and a place for families and friends to gather for a Shiva Minyan or meal of consolation, shares Kenneth Marks, Chairman of the volunteer cemetery board. Thanks to the support of Washington Hebrew Congregation, our major donors, our twenty-eight Partner Congregations, and numerous supporters, our decades long dream will soon become a reality, concludes Marks.
Levin/Brown & Associates of Baltimore, Maryland is the architect of the new center and chapel and Eichberg Construction in Rockville, Maryland has been engaged for the nine month construction project. The Garden of Remembrance (Gan Zikaron) Memorial Park is located at 14321 Comus Road, Clarksburg, Maryland 20871. For additional information please call 301.428.3000 or visit www.gardenofremembrance.org.
Garden of Remembrance Names New Executive Director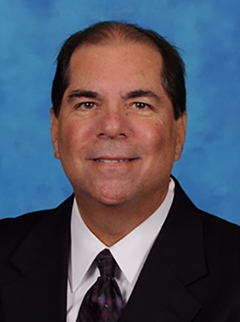 The Garden of Remembrance Memorial Park has named Glenn S. Easton as its new executive director, according to Hank Levine, president of the 150-acre nonprofit cemetery that serves all streams of the Jewish community. Easton, a Jewish communal professional for more than 30 years, follows Sheldon Grosberg, Garden of Remembrance's founding executive director, who held the position for 20 years prior to his recent passing. As part of his role as executive director of three of the region's largest synagogues, Easton brings decades of experience managing multiple cemeteries to his new position. He has been president of both the Jewish Communal Service Association of North America and the North American Association of Synagogue Executives; has served on the boards of numerous local and national community and civic organizations; has published in the areas of nonprofit management, fundraising/development, and technology; and founded an information and management consulting company that served the nonprofit and faith communities.Easton holds a master's degree in public management and administration from American Jewish University in Los Angeles and a bachelor's degree in history from California State University, Northridge, including coursework at UCLA and Tel Aviv University.
Founded in 2000, The Garden of Remembrance, a partner agency of the Jewish Federation of Greater Washington, is the region's most inclusive Jewish cemetery. It is the Washington region's only not-for-profit cemetery managed by a board of Jewish community leaders, with sections owned by twenty-six synagogues of all branches as well as extensive areas for unaffiliated individuals and families. Located in Upper Montgomery County, plans include the construction of a chapel and development of expanded grounds to accommodate the future needs of the area's growing Jewish community.